Warehousing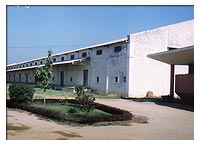 Haryana Agro Industries Corporation has a "constructed godown" covered storage capacity of 55000 MT for the storage of food grains.
Shahabad (25000 MT)
Pipli (15000 MT)
Jind (10000 MT) and
Murthal (5000 MT).
These godowns are rented out to Food Corporation of India under "7 Years Guarantee Scheme". Besides these, HAIC has also constructed godowns of 6300 MT (5000 MT at Shahabad and 1300MT at Pipli) under State Plan. Five more godowns with a capacity of 42860 M.T. are under construction at Murthal (24,000 M.T.), Shahabad (12,000 M.T.) Ballah (3520 M.T.) and Jind (3340 M.T.).

Maintenance of Plinths
Haryana Agro Industries Corporation has purchased 8 acres of land at Barwala and has constructed a plinth of a capacity of 30,000 MT for its own use.